Our Profiles
1.  Summary
2.  Sync Productions
3.  George Bowley
4.  Laurie Dupuis
1.  Summary
 
When George first heard a Les Paul and Mary Ford multiple guitar and vocal recording back in 1950, he made it a life's goal to learn how to play the guitar in that style and to master the recording processes that Les used to create this fascinating sound. It took years of practicing, dissecting and characterizing every one of his records and arrangements, making hundreds of trial-and-error recordings of his own - and spending valuable time with Les Paul himself - to finally be able to recreate his exact recording and playing style.

Laurie Dupuis is George's youngest daughter and was only five years old when she was first featured on a commercial record release. Laurie has a natural musical talent and timing instinct for recording multiple voice tracks and for creating flowing background vocal harmonies for all of their song arrangements.  Her radio-listening fans continuously comment on the sweetness and clarity of her voice.

George and Laurie record their music using modern digital computer workstations combined with older analog multi-track tape capabilities.  Although they try to preserve the original sound and feel of Les and Mary's original monophonic overdubbing tape process, they can now take full advantage of the total stereo field and of today's many digital signal processing techniques.  In doing so, they are now able to record unique and refreshing new arrangements; not possible with the 1950s equipment and technologies that Les had to work with back then.

George and Laurie have appeared on nationally syndicated radio and television and have been heard on local radio for over 35 years. They are both Grammy-voting members of The Recording Academy and George was recently honored with a Lifetime Membership in that organization.  And Laurie has recently received her Doctorate in Clinical Psychology.  
 
So... not only do they make music together, Laurie can now explain - why  :-)
---
2.  Sync Productions
Their recording studio, Sync Productions, originally started out in the early 1970s as Sync Records - a record label that used a Trademarked logo consisting of two audio sine waves "in sync".  Sync Records was an analog 4-track multi-track facility that was producing 45 rpm singles and doing broadcast production work in the local Washington DC area.

In the 1980s, Sync Records became Sync Productions and expanded into digital recording as well as its earlier analog tape processes.  George and Laurie continued to record and be heard on local and nationally syndicated radio and television throughout the 1980s and 1990s.  Their many jingles for the nationally syndicated Don and Mike Radio Show were played daily for over fifteen years.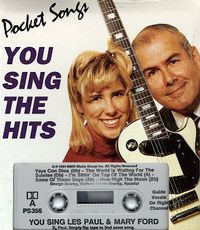 In the 1990s, George and Laurie recorded a karaoke album for the Pocket Songs (Music Minus One) label in New York entitled "The Hits of Les Paul and Mary Ford.  It was released in cassette format and was subsequently distributed internationally by the Hal Leonard Publishing Company.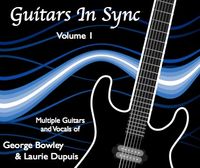 George and Laurie's first commercial CD release on the Sync Productions label - "Guitars In Sync" - provides a new generation of music recorded in the multiple guitar and vocal style reminiscent of Les Paul and Mary Ford's pioneering sound in the early 1950s.  Their CD was released in December of 2017.



 
---
3.  George Bowley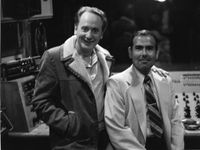 George had personally known Les Paul since 1951. They first met through correspondence when George was still in High School, and when Les was busy recording with Mary Ford back in Hollywood.  It was Les and Mary who, in 1955, provided George with his much-needed "permission to drink coffee certificate", required by upperclassmen when he was a Plebe at the Naval Academy in
 Annapolis.  (Photo By Jim Evans)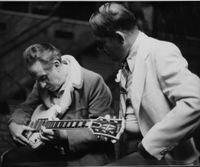 Throughout these many years, George continued his association with Les through frequent visits to his studio home in Mahwah, NJ; meetings at various clubs and events where he was performing; and by sharing each other's knowledge.  Les was particularly interested in George's Patent of a Fiber Optic Guitar, and George was intensely interested in learning as much as he could about Les' recording processes, equipment and guitar playing techniques.Their exchanges over the years fostered a lifetime of friendship and mutual respect for each other. (Photo By Jim Evans)
---
However, George's lifetime interest in this recording style, and his association with Les Paul himself,
were the result of a much earlier childhood fascination with recording and music.
---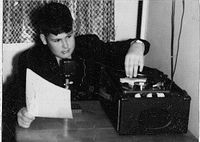 George had first acquired an early interest in electronics and broadcasting - beginning in 1946.  At the age of nine he was crafting cardboard microphones out of shoe boxes. At eleven, he had his own Allied Radio wire recorder and was recording "shows" with neighborhood friends; using comic books as scripts. At twelve he was building his own radio receiver and transmitter kits.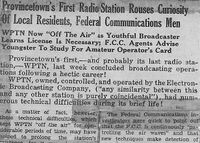 At thirteen, armed with his wire recorder, a phonograph oscillator and a mile of antenna wire, he was broadcasting radio programs after school to his neighbors - much to the chagrin of the FCC since, instead of his signal going only 100 feet, his signal was unknowingly being heard 450 miles away! The FCC quickly cut his antenna and pointed his youthful activities toward the more legal aspects of amateur radio where, three months later, George had studied and earned two ham radio licenses.
A few years later, he acquired a Commercial Second Class Radiotelephone and a Third Class Radiotelegraph license.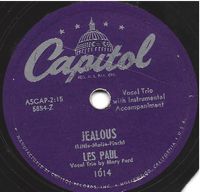 But while all this was going on, George had an equal and parallel interest in music. Upon hearing a Les Paul recording for the first time, he was totally fascinated with Les Paul's music; intrigued by the scintillating sounds of echoes and the syncopated rhythms of multiple guitars and vocals. It instilled within him an insatiable desire to learn how these recordings were made, and how he might someday learn to play guitar in that same style. Little did he know when he was thirteen years old that he would indeed achieve that goal and be praised for it by Les Paul himself. But that journey took many years.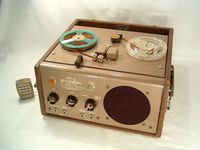 By the time he graduated from high school, he had the overdubbing process down pat. Later he acquired two consumer tape recorders; a Bell and a Pentron, and proceeded to record his first overdubbed guitar 10" LP demo record in 1955; receiving recording contract offers from several minor labels in the process. However... at the same time, he was selected to enter the U.S. Naval Academy and he chose that option instead.
While at the Naval Academy in the late 1950s, he acquired a Berlant-Concertone 20/20 tape recorder, which he modified to more easily overdub between stereo tracks and produce echos.  He managed to record a number of new tunes and play at academy social events as time permitted.  After graduating second in his class in Electronics, he subsequently received his graduate degree in Communications Engineering from the US Naval Post Graduate School in Monterey CA.

During his twenty years of naval service, George managed to keep his hand in guitars and recording. But with increasing military responsibilities, constant moves, being at sea, the Vietnam War, and a growing family, there was little time to continue his musical activities as before. Consequently, the guitar and recording equipment essentially remained in the closet for about seven years.  But in 1972 George was assigned to duties in Washington DC and the prospect of his remaining in one place for a while brought the guitar and equipment back out of the closet.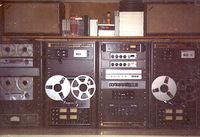 Up until this time, George had been overdubbing all of his recordings; That is, going back and forth between two tape recorders as Les Paul had done in the past.  But then, the Teac 3340S four-track tape recorders became available to the consumer/semi-pro market and he promptly bought two of them, along with upgraded signal processing equipment.  He could then continue to hone his recording and guitar playing skills; now enjoying the benefits of multi-track tape recording.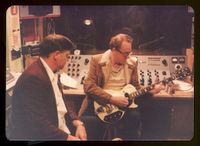 At this point, George was getting closer to achieving the "Les Paul Sound"; but he wasn't quite there yet.  Something was missing.  During a weekend visit with Les, he invited George to play his guitar on top of a rhythm track that he was currently recording on his "Octopus" eight-track tape recorder. As George played Les' guitar through Les' own board and control room sound system, he realized that this was the exact sound that he had been seeking all these many years. With Les' further guidance, George was able to better replicate his studio setup and to obtain the same low impedance model guitar that Les was using.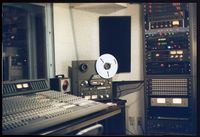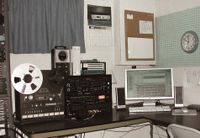 The long sought-after marriage of guitar sound and recording capabilities then finally came to together. George had designed and constructed his own double-wall, acoustically treated, 8 track analog recording studio in his home and began producing quality commercial-grade recordings in the Les Paul style that had so intrigued him 35 years earlier. Later he expanded the studio to include a full suite of digital audio and MIDI production facilities.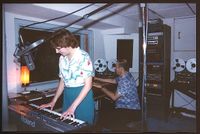 With these enhanced capabilities, he and Laurie became involved in a number of other broadcast production, commercial advertising, and commercial music recording projects for the following twenty years; including an album for Music Minus One, television appearances, and recording jingles and themes for radio and television.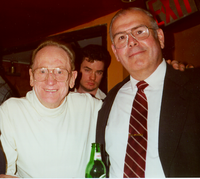 In later years, George and Les Paul continued to maintain their relationship. Les had been extremely complimentary about George and Laurie's album, and Les was fascinated with George's fiber optic guitar and other applications of optical fibers in music that he had patented. Around 2003, George and Les had started to work together on writing a technical dissertation on his studio and recording practices which was to be a chapter in George's book on the history of Sound on Sound. The effort, however, was later overtaken by other events.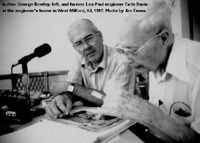 In that regard, George also had spent time with Les Paul's engineer, Earle Davis, who had traveled with Les and Mary back in the 1950's during their hit records era. During this association, George had gained special proprietary insight into the musical and recording techniques of the Les Paul and Mary Ford team back then - both when they recorded at home in their studio in Mahwah, New Jersey, and during their on-the-road performances during the height of their Capitol Records popularity.
Earle was particularly helpful in describing the technical circuitry and equipment operations within Les' recording studio, and also provided valuable information about Les' recording habits, processes, routines; and including Les and Mary's personal lives and problems as well.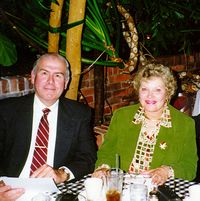 While at Mercury Records in 1947, Patti Page actually overdubbed a disk recording of her song "Confess" - a full year before Capital Records released Les Paul's overdubbed disk "New Sound". Pursuing his interest, George also spent valuable time with Patti discussing the overall technical and decision processes that were involved in making that recording. Subsequently, George and Laurie were her special guests at her Washington DC Concert at the Lisner Auditorium that year.
---
George and his daughter Laurie are now busy recording creative new arrangements of old and new song favorites in the multiple guitar and vocal styling reminiscent of Les Paul and Mary Ford - the original creators of "that sound".
---
4.  Laurie Dupuis

Laurie Dupuis is George's youngest daughter. She started her musical career at the tender age of five years old when she was first featured on a children's commercial recording about a misfit Easter Bunny!  That early event was probably the main reason for her later interest in the field of music and recording.

She started formal voice training while in high school where she participated in numerous school musical performances; a highlight of which was a trip to the Dominican Republic to perform at the request of the U. S. State Department.  She also excelled in music theory, arranging and composition classes that then prompted her to consider music as a serious career choice in college. She subsequently attended James Madison University in Harrisonburg, Virginia and was indeed accepted into their four-year Music Curriculum. But after her first year she experienced a calling in the field of mental health and transferred into the Psychology curriculum for her remaining three years.

She graduated with a Bachelor's Degree in Psychology and later attended George Mason University in Fairfax, Virginia where she earned a Masters Degree in Clinical Psychology.  During this period she continued to record commercial music with her father which subsequently resulted in their first album "The Hits of Les Paul and Mary Ford" for the Music Minus One label in New York.  The Hal Leonard Publishing Company subsequently distributed the album internationally.
 
She also recorded a number of jingles that had played on nationally syndicated radio for over fifteen years, performed on national television, recorded parodies for local radio personalities, and has continued to write and arrange music, and record beautiful vocals for their various musical ventures.

Laurie has a natural musical talent and timing instinct for recording multiple voice tracks and for creating flowing background vocal harmonies for all of their song arrangements.  Her radio-listening fans have continuously commented on the sweetness and clarity of her voice - as evidenced by her current performances.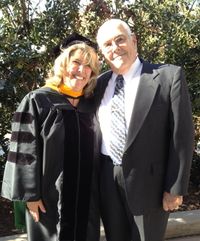 Dr. Laurie... has been recently awarded a Doctorate Degree in Clinical Psychology from Argosy University. She is the mother of two beautiful teenage daughters and currently resides in Northern Virginia - a mere five minutes away from Sync Productions. . .